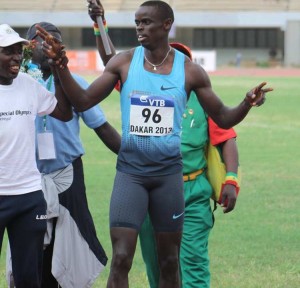 Senegal unveiled on Tuesday the list of the 14 athletes selected to represent at the seventh edition of Jeux de le Francophonie scheduled in Nice (France) from 6 to 15 September. There are eight (8) men in four disciplines.
In Long jumper it is Ndiss Kaba Badji, former African record holder in 2009 (8.27 m), Guy Bertrand Boissy in the 200 m, Mamadou Kasse Hanne (photo) and Amadou Ndiaye in the 400m Hurdles.
Six (6) ladies are thus apportioned. Gnima Faye and Adja Arête Ndiaye (100m hurdles), Mame Fatou Faye (400m hurdles) and Fatoumata Soumah Ndeye Fatou Diop (400 m) and Ndeye Sene (Hammer).
The reasons for such a choice on the thirty athletes listed, the executive director of the Federation of Senegalese athletics (FSA) Jean Gomis says "these are the fourteen who made minima, so we think they are the best of the moment".