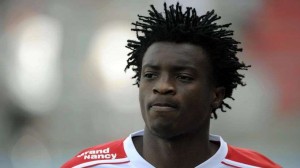 Benjamin Moukandjo may not play next season with Nancy. The relegation of the club and its willingness to reduce its payroll could play in its favor. The Cameroonian is particularly followed by the promoted Nantes and Bastia.
Moukandjo plays since 2011 in Nancy from Monaco. This season he played 35 games for five goals. He had already announced not wanting to relive the relegation in L2 while the club was in big trouble. Despite all its will, Nancy was unable to escape the lower floor.
Furthermore Nantes and Bastia, Marseille had announced earlier this month their interest in the player.