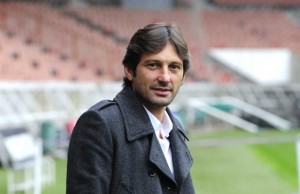 PSG sporting director, Leonardo will be heard Wednesday before the Appeals Commission of the Disciplinary Committee of the LFP. The club from the French capital had appealed the nine-month suspension imposed on the Brazilian for his bad action against the referee of the match against Valenciennes, Mr. Castro.
Except that Leonardo may risk big in this new procedure. According to Eurosport, citing a source close to the case, this case is atypical. "The committee of the FFF has become accustomed in increasing penalties in recent seasons when it thinks fit, whereas before it did not happen like that, and decrypts an expert in these matters. There is no precedent and this case is a little atypical. Normally, such incidents take place on the sidelines. There he will seek the referee and really hustles ". "For a jostle on referee outside the meeting involving an officer, the scheme provides for a one-year suspension. But it is a reference scale that can be aggravated or decreased depending on the circumstances ", says the source.
To a firm calling off of three points?
The suspension of Leonardo caused much worry to the club since the start of the transfer window. After the announcement of the departure of Ancelotti, the club had thought about him to replace the latter. This was followed by a long consultation of coaches until the appointment a few days ago of Laurent Blanc. A choice by default, agree all the observers.
Worst, in his punishment, LFP inflicted a three points calling off with reprieve at PSG for the upcoming season. Then are we send to a lifting of the suspension if the appeal of Leonardo is rejected? We'll know more latter in the day.