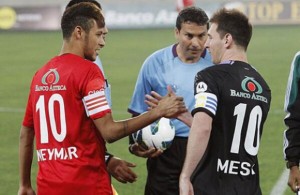 Before ending up at Camp Nou in the colors of FC Barcelona, Messi and Neymar regaled the audience of Lima (Peru), Tuesday night at the charity match organized by Leo Messi.
"The Duel of the Giants", the name for this poster found among friends Messi and a selection of the world, has been prolific in goals. Very soon, the friends of Messi made the break with five goals in 43 minutes of play (5-0).
The meeting ended with the score 8-5. Of these 13 goals, is a lob from 45 meters of Neymar.
The composition of both teams
Friends of Messi
Muslera – Dani Alves, Mascherano, Demichelis, Abidal – Sergio Busquets, Hamsik, Cavani, Pablo Aimar – Messi, Lavezzi.
Coach: Fabio Capello
The rest of the world
Julio Cesar – Cannavaro, Materazzi, Yepes, Insua – Malouda, Vargas, Julio Baptista, Farfan – Osvaldo, Neymar.
Coach: Zico
[youtube]http://www.youtube.com/watch?feature=player_embedded&v=YFzQbvPCuLQ[/youtube]