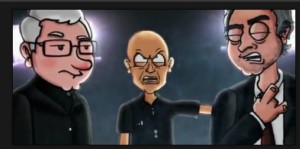 This is the buzz video of the day! Alex Ferguson, the former Manchester United manager who took his deserved retirement and the new Chelsea coach Jose Mourinho also ex- coach of Real Madrid clash each other in music on a rap beat
The buzz video is signed  evidenceprod Tags.
Players from both clubs love one another, and the video is going around the world.
Cristiano Ronaldo who never misses an opportunity to mock his coach made it turn.
However, he is more discreet about recent revelations that Rihanna has brought to light his sexual diversity …
The video was translated into French.. When football inspired rap …
Here is a little video
[youtube]http://www.dailymotion.com/video/x11hwwp_mourinho-et-ferguson-se-clashent-dans-un-rap-battle_sport[/youtube]