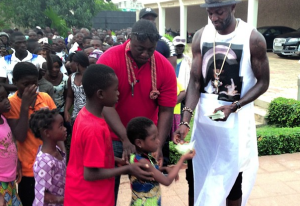 The captain of the Hawks of Togo, Sheyi Emmanuel Adebyor is praised in his home country for his talent as a great footballer but also for his generosity. The Tottenham striker who visited Monday the Editorial of Africa Top Sports, thought about the neighborhood kids. Sheyi gave smile to dozens of children by providing them with banknotes.
The Togolese international explains his actions on his Facebook page. "Whatever you do, people are never happy. This money does not fall within the scope of SEA Foundation. It is for parents to ensure a better holiday for children in my neighborhood … This distribution is a habit that takes place every year. "
Adebayor organized on June 30 a great musical concert in Lomé in the launch of his foundation which aims for working in several domains, including education and health.