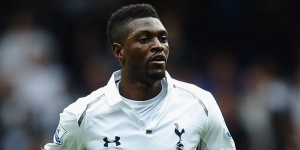 Emmanuel Adebayor's future is still uncertain at Tottenham. If the player says he does not want to leave London, this does not seem to shake the ardor of many courtiers. Adebayor passing last Monday in Africa Top Sports kicked into touch a possible departure to Turkey where Fenerbahce was particularly in the ranks (see video here). But it is now another Istanbul club which does not seem to miss the striker.
Ahmet Piper, the president of Besiktas confirmed having sent a "serious offer" to Tottenham for the Togolese striker who started his foundation last week in Lomé. "It is certainly true that we are in the idea of a transfer. We have made a serious offer for Adebayor. Tottenham, in turn, gave us a figure for the player, who is slightly higher than the amount we had imagined ", Piper told the newspaper Fanatik. However, it is far from abdicating "Negotiations always take a long time. I hope we have a chance to have a meeting soon ".
Remains whether Adebayor will succumb to the lure of Turkey, especially as Besiktas will not play in European competitions this season. The club was sanctioned by UEFA as part of match-fixing. "Besiktas will not participate in the edition 2013/2014 of the Europa League. Fenerbahçe is excluded from the next three UEFA competitions (Europa League, LoC) for which the club would qualify, including the edition 2013/2014 of the Champions League. The suspension on the third season is transferred to a probationary period of five years, "a UEFA statement.
We are therefore moving towards a new Adebayor serial in this transfer window.