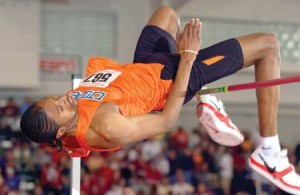 Last Thursday took place the meeting of Lausanne, the eighth stage of the Diamond League. This is the high jump that offered huge sensation during this appointment. In fact, the world record of the Cuban Javier Sotomayor (2.45 meters), dating back to 27 July 1993 has almost fallen.
The Ukrainian Bohdan Bondarenko creates a sensation by winning the high jump competition with a jump of 2.41 meters before tackling a bar at 2.46 meters. But the Ukrainian finally failed his three attempts, missing an opportunity to clear the Cuban from the shelves. He realized the best high jump for 19 years and obviously better world performance of the season.
Behind four athletes crossed 2.30m, including Mickael Hanany. The Guadeloupian took 6th place with 2.30 m, his best performance this season. The Caribbean is just one centimeter from the minima in World championships in Moscow. The French then failed three times at 2.33 m, a jump that would have meant equaled France record.