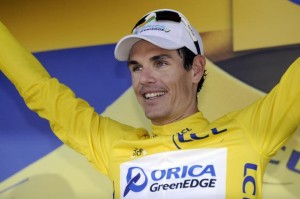 Africa Top Sport told you about the South African Daryl Impey of Orica-Green Edge team, who won the Montpellier stage of Tour de France.
The first African to wear the jersey of the prestigious tour which is in its 100th edition has much to be proud of. "This moment will forever change my life. I could not imagine, "said Daryl Impey.
The South African has not failed to make a wink to his homeland that he thanked:
"For me, having the opportunity to wear this yellow jersey on the biggest race in the world is enormous. Everyone watches the Tour de France, including in South Africa. I thank the whole team for giving me confidence and especially Simon [Gerrans] who gave me the opportunity to wear this jersey, "said Impey on France 24.