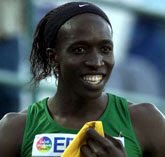 "I'll be sad if I do not participate in the Francophone Games". World Champion in 2001 in Edmonton, the Senegalese athlete of the 400 m, Amy Mbacke Thiam does not think of hanging. At least not before participating in the upcoming Francophone Games in Nice in September"
"I read in the website of the Francophone that athletes aging 35 years will no longer participate in the games. This was not the case before. Still I want a waiver to participate", Amy Mbacke said.
According to her "her preparation continues with hope to participate because she would be sad not to attend it."
She states "I decided to retire permanently after my participation in the Francophone Games in Nice. But if this is not the case, I will wait till the end of the world championships or the championships of France"
And Amy for Mbacke Thiam to say "sport has no age. The English footballer Beckham hung up at 37 years and the American athlete Kim Collins at the age of 38; Merlene Ottey was 45 and was still among the best ".
So for her, "the results are more important than age if you have a good training".
Commenting on his upcoming retirement, she declared "being trained in sports management and setting up an athletics school in Kaolack (150 KM from Dakar)".
The Senegalese sprinter deplores "the lack of a sports policy for Senegalese athletics unlike what is done nowadays ".