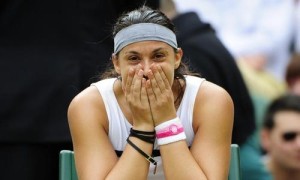 This is the controversy of the day! And it is very sad! The French Marion Bartoi who yesterday won the Wimbledon women's final against Germany's Sabine Lisicki was attacked shortly after her victory by a BBC radio journalist, John Inverdale.
The latter has strongly commented shortly after her victory: "Do you know the father Bartoli told her when she was little, 'You'll never be a gun, you'll never be a Sharapova, so you have to hang on and fight '?"
The BBC apologized: "We recognize that the remark was derogatory and we apologize".

Marion Bartoli, 28, is said to have had fun of the baseness of this remark. She was too happy to have the dream of her life … "It's not important. Yes I'm not blonde. This is a fact. Have I dreamed of becoming a model? No, sorry. But have I dreamed of winning Wimbledon? Yes. Absolutely ".