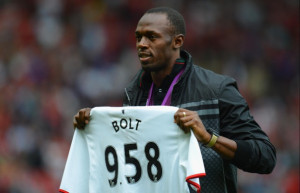 Usain Bolt other dream will become reality next August 9. The dream of the Olympic six-time champion and unconditional about Manchester United is to wear the jersey of Reds.
This will be done! On the occasion of the 10th anniversary of Rio Ferdinand, a friendly match will take place between Manchester United and Sevilla. Usain Bolt is the big guest who will take part in this meeting.
Whoever asked Sir Alex Ferguson to let him play, will live a second joy: "I know that I could make the difference. I would be the fastest of the team but I can play too. "
According to coupduchapeau.com, the Jamaican will play the entire match in the regular team of Manchester United, of course next to Ferdinand.