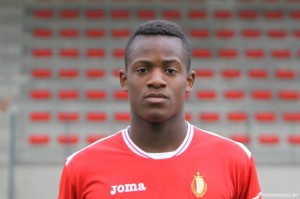 It is now official. Michu Batshuayi season will play this season with Standard of Liege. Pending for a few days, the Belgian Congolese-born striker has extended his contract to 2018. Driven by his surroundings in Anderlecht that opened its arms widely, the striker of 19 years was awarded the contract he waited along the Meuse, on the financial side.
"As everyone knows, Michy was very courted by other teams but decided to do what is surely the best choice to continue his progression. In addition, the agreement between the new coach Guy Luzon, the staff and Michy is really excellent. Therefore, Michy is in his head, concerned with the performance of the team and motivated to progress further. Also operate in a framework he already knows is an added advantage. His personal ambition to progress and the collective ambition of the club to make good results led the two parties to continue the adventure together! , "Said Jean-François De Sart, the sports director of Liege.
Accused of a sex scandal in March, Batshuayi will be able to concentrate on his football.