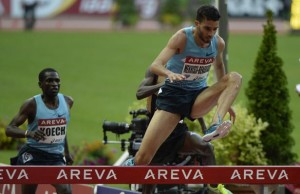 Mahiedine Mekhissi set a new European reference time on the 3000 m steeplechase at the Areva meeting counting for the ninth stage of the Diamond League.
With a time of 8'00" 09, the Franco-Algerian clears, more than a second, from the shelves, the record of his compatriot Bob Tahri (8'01" 18), succeeding his bet.
Second in the race, like in the Olympics, the Kenyan Ezekiel Kemboi (7'59" 03 world best performance of the year), Mahiedine is "so happy to offer this record, that i dream to beat since i was athlete to the public. "The reaction of the new European record holder in the video.
[youtube]http://www.dailymotion.com/video/x11ldhp_mahiedine-mekhissi-benabbad-je-voulais-offrir-ce-record-au-public_sport[/youtube]