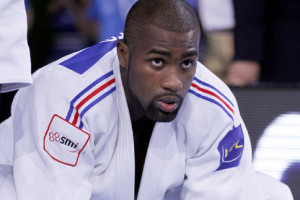 Will the France judo team not attend the world championships in Rio without its biggest chance, the Gold Medalist, Teddy Riner? The five-time world champion heavyweight judo, is again stopped.
After a groin in April during the European Championships, the Guadeloupean Olympic champion had to shorten his international internship in Castelldefels (Spain) because of pain in the left shoulder "I was beside him when it produced, said his coach at the Blues Franck Chambily in L'Equipe on Wednesday. Teddy threw a sumi-gaeshi on Shichinohe Ryu (the number one Japanese) and heard his joint crack. He immediately stopped the fight. Not that it was particularly painful, but in order just to be careful. This is also why it seemed sensible to us to bring him back to France to get examined before seeing Jean-Marc Sene (Nrdl the federal physician). This interruption is infuriating because Teddy felt fine and no longer felt anything about his groin. "
Is going to draw a line on the world championships? "For the moment, difficult to speak, said the doctor Jean-Christophe Miniot, who closely follows the Guadeloupean. Before deciding, we have to wait for the MRI. "
Teddy Riner has 47 days left to be operational for the world Games of Rio de Janeiro scheduled from August 26 to September 1.