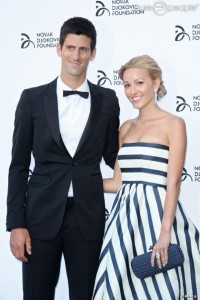 After the disappointment of the lost of the Wimbledon final on Sunday, the world's No. 1 of ATP Tour, Novak Djokovic, organized a party in the British capital for the foundation of the same name, on Monday.
An evening that was attended by personalities from all sides for a fund raising to support the activities of the Foundation Novak Djokivic. A foundation that helps children in Serbia, allowing them to achieve their dreams through education, sports and many other projects.
We could see among the guests, the winner of Wimbledon women's simple, Marion Bartoli, the German Boris Becker and many others in the tennis world. Djokovic was able to raise an amount of € 1.2 million.
Touched by the generosity, the Serbian thanked the donors on Twitter.
"What a great event last night! So many generous people have contributed to make it higher. 1.2 million for children! I am so grateful and touched, thank you all! "