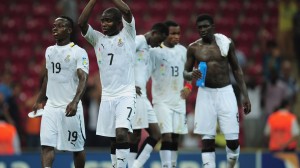 Florian Thauvin has hurt the Ghanaians. The Lille player coveted by Olympique de Marseille thanks to a double score has, he alone enabled France to qualify for the final of the U20 World Cup.
A first in the history of the French football. After a first half mastered and the advantage at the break thanks to Thauvin, the Blues are unrecognizable in the second half.
There was enough for Ghana who bided its time. Two minutes after the restart, Ebenezer Assifuah a heavy left-footed shot puts the two teams tied. Then the Black Satellites play to their account. On several occasions, in turn, Anaba, Assifuah, Acheampong found the goal of Alphonse Areola in vain. Then they are punished.
Florian Thauvin once again on one of the rare occasions of the Blueberries in the second period found the side netting. Final score 2-1.
France is in the final. Ghana will just play the ranking game.
The other semifinal pits the Uruguay to Iraq.