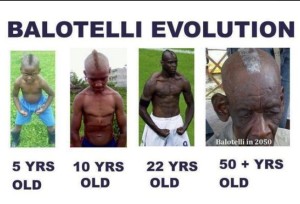 Despite his many escapades, the Italian striker Mario Balotelli has many fans.
AC Milan striker does not inspire only the youth. Even the children and adults cannot resist to the look of Super Mario.
A fan of the player posted a photo on Twitter of the admirers of Balotelli all generations mingled. The original hairstyle of the player from Ghana remains his common point with all his fans.
According to the Italian press, Mario Balotelli would be contacted by Real Madrid. The discussions would be in difficulties concerning the amount of the transfer of the player.