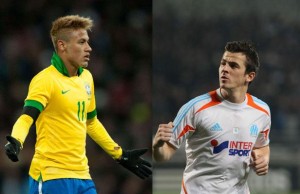 Joe Barton does not lose sight of Neymar.
The midfielder of Olympique de Marseille, who was repeatedly shown stingy with praise towards the Brazilian returned to the charge.
In a lengthy post on his blog, Barton made a detailed analysis from the performance of new recruit of Barcelona during the Confederations Cup. As can be expected, he found about the player a list of defects. Neymar is not at the level of great players like Messi and Ronaldo according to him.
"The few times that I saw him playing, he was particularly disappointing. For this reason, the publicity surrounding him seems exaggerated. He gave an impressive idea of his qualities during the Confederations Cup against a varied competition, but not enough consistency or quality to be compared to the other two big names of football today, Messi and Ronaldo, "he wrote.