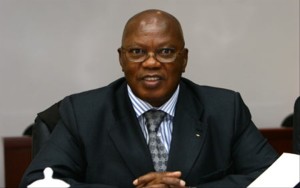 The outgoing president of the Association of National Olympic Committees of Africa (ANOCA) General Palenfo Lassana was re-elected for a further term of four years as head of the continental institution. Palenfo committed during the 15th session of the ANOCA held in Abidjan to work so that Africa finds its place on the world stage.
"We need to find our place on the world stage and Olympic sport. Our Athletes' Commission of ANOCA shows us the way of the future that will allow us to do much better in Games in Rio de Janeiro. Together with you, NOCs in Africa, we need to develop winning strategies to discover new talents, prepare champions allocating more resources to their research performance, sound design and organization of training programs competitions to reach qualitative elite for major World events and Olympic sport, "he said.
Palenfo said that Africa is not able to host the Olympic competitions even in 2024.