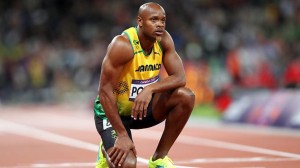 We know a little more about the identity of the five Jamaican athletes tested positive during the Jamaican championships selection.
Three names were revealed. It is the former 100m record holder (9" 74), Asafa Powell, Olympic champion with the Jamaican relay. Nesta Carter (27 years old) who was part of the relay team Olympics-Beijing 2008 and London 2012. Sherone Simpson (28) who won the 2008 Summer Games silver medal.
The agent of Powell (who failed to qualify in the selection finishing in the 7th place) and Simpson confirmed the positive test of both players. He said working with the World Anti-Doping Agency to know "how the substance entered the fourth fastest man in the world (NDRL behind Usain Bolt, Tyson Gay and Yohan Blake) organization"
This is a tsunami that shook the World Athletics on Sunday. In a few hours it will be Tyson Gay has announced he tested positive.