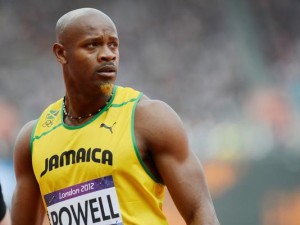 The noose begins to close around Asafa Powell. The prosecution of Udine decided on Tuesday to investigate on several Jamaican athletes including Asafa Powell," for violating the law on doping", reports the Italian news agency ANSA. On Sunday, we learned that the Jamaican sprinter, former 100m record holder and five of his compatriots were declared positive.
It was discovered in the night of Sunday to Monday, fifty boxes of pills, bottles, sprays and ointments without labels or with indications more or less incomprehensible in English, during a raid in the rooms of Powell Hotel, Sherone Simpson (Olympic silver medalist in the 100m at the Beijing Olympics in 2008) and their Canadian fitness trainer Christopher Xuereb. The team was in Italy to prepare for the world games in Moscow.
The prosecution of Udine ordered the sequestration of its products and open an investigation to comply with Article 9 of the Law on Doping in force in Italy (editor's note, it punishes both those who are and those who administer the doping substances).
The physical trainer has left Italy on Monday. Powell and Simpson then left on Tuesday.