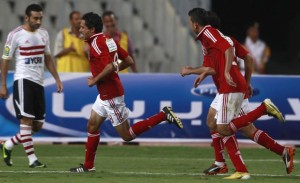 Certainly, the first day of the group stage of the African Champions League knows upheavals. After a week postponement of the match Sport Sport -Séwé Coton is the turn of the programming of another match knowing a slight delay. Originally scheduled for this Sunday, the Al Ahly-Zamalek Group A (see the composition of the groups of the competition) meeting has been postponed to Monday.
This is due to the political instability prevailing in Egypt. Moreover, the new season has been canceled purely and Zamalek and Al Ahly were both declared champions. The two rivals of Cairo must cross at El Gouna, over 500 km from the capital. "CAF has sent a letter to play El Gouna whereas this stage was not required for the competition. However, they decided to postpone the game 24 hours for marketing reasons ", says Zamalek in a statement.
Another concern of both teams, for now, the Egyptian authorities have not yet decided whether the match will be played behind closed doors or not.