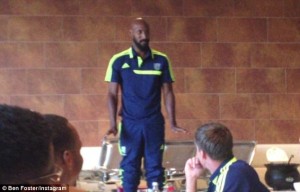 See Nicolas Anelka, one of the bad boys of international football, being hazed is a pure delight. Newly arrived among the Baggies of West Bromwich Albion, the French international has had to submit to custom: the hazing.
A practice that requires from a new comer into a club to sing a song in front of his teammates during the meal. Anelka has not marched and sang "As a woman, "of the rapper Booba, one of his friends, also known for his punchlines.
It is the goalkeeper Ben Foster who filmed the moment of laughter and posted the video on his Instagram account.
Watch
[youtube]http://youtu.be/8n_TQ7BuIRk[/youtube]