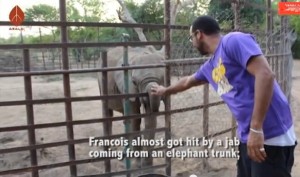 Africa Top Sports told you about it. Several big names of the African basketball were committed against malaria from 8 to 16 June 2013 as part of the annual Giving Back 2013 charity tour.
The nternational Basketball player Yohann Sangare, Amagou Pope, Arthur Bouedo, and the NBA player Luc Mba A Moute delivered a match against malaria in Burkina Faso, for peace in Mali and childhood in Senegal.
Giving Back 2013 was not just limited to Basketball game. Players have also discovered the animal zoo of Ziniaré at a cultural tours organized by the Association of Boubacar Sy and Yohann Sangare.
Arthur Bouedo, professional basketball player said: "We went to visit the animal zoo. It was very interesting. I saw animals that I had never seen before. Feeding elephants, almost climbing ostriches was something strong for me. "
[youtube]http://www.youtube.com/watch?feature=player_embedded&v=kZIY29E-Xi0[/youtube]