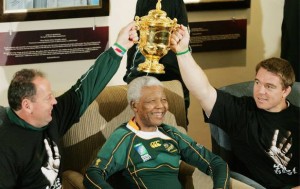 On this anniversary of the former South African President Nelson Mandela, messages of congratulations and support continue to rain on social networks.
The author of the famous sentence "Sport has the power to change the world," was featured on several Facebook pages, including that of Africa Top Sports.
The TV channel CCTV Africa based in Nairobi issued a picture of the statesman who sacrificed 67 years of his life to fight for social justice with two South African athletes. Jake White, South African Rugby Union coach and Captain John Smit of South Africa Rugby Union jointly held the Rugby World Cup Webb Elllis over the head of Nelson Mandela.
The picture was taken on Oct. 27, 2007, in Houghton (Johannesburg).