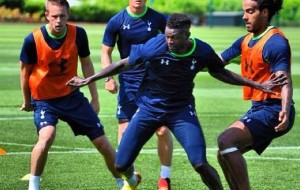 Africa Top Sports told you about it.
The Hawks of Togo captain Emmanuel Adebayor Sheyi resumed training with his club Tottenham.
The striker will fly this weekend in Asia for a pre-season tour punctuated by a tournament called Barclays Asia Tour.
This competition will also gather London club, Manchester City, Sunderland and a selection of Hong Kong.
The Togolese international has published on his facebook page, his training sessions with the Spurs.