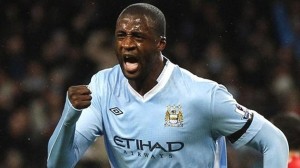 While the Premier League will open on August 17 this year, we are already witnessing a battle in the press of the English league players. Damaged by the talking of José Mourinho, the midfielder of Manchester City, Yaya Toure says he is afraid of neither Chelsea nor Jose Mourinho.
The return of the Special who has become The Happy One does not bother this time the minds of clubs that play leading roles in the Premier League and certainly not Manchester City. And it's Yaya Toure, who will carry the torch of Citizens in the role of striker "I'm not afraid of Mourinho. In fact, I cannot wait to play against him. We must be brave and answer by our presence to all the challenges that come, "said the Ivorian international is currently on tour with City in South Africa.
The fatal Weapon of Yaya Toure for the New Year is the effective of Manuel Pellegrini who took control in place of Roberto Mancini: "I am confident that things will go better with the new coach. There are many recruits who arrived in the club and I'm sure that it will have a positive effect on the team. "
The elephant knows he has many things to reveal this season. But he prays God to spare him from injury: "I hope I will not be injured this season and I'm going to play as many matches," he concluded in the columns of Goal.com.