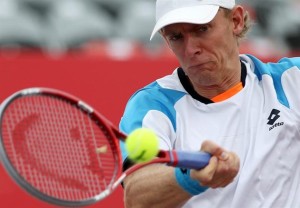 Kevin Anderson saw his journey end in the semifinals of the tournament in Bogota. Seeded No. 2, the South African was eliminated by the Croatian Ivo Karlovic with two sets to one.
A break in the first and third set allowed the World 155th to push out Anderson (23rd to ATP) of the title race of the Colombian tournament, after winning 6/4, 6/7 [4-7] 6 / 3.
In the final on Sunday Ivo Karlovic will play the title against the local Alejandro Falla who also defeated in three sets the Canadian Vasek Pospisil 6/7 [4-7], 6/3, 6/4.