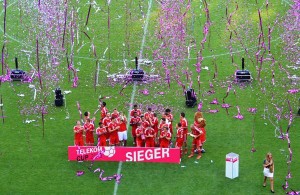 Pep Guardiola has his first trophy with Bayern Munich. The team author of a triple Championship-Champions League-Coupe last season began the new with the same zest. After eight games, the Bavarians have not lost yet, scoring 39 goals against just three conceded.
This Sunday, was being played the final of the Telekom Cup, a pre-season tournament which included besides Bayern, Borussia Monchengladbach, Hamburg and Borussia Dortmund. In the final, the men of Guardiola were ruthless in front of Mönchengladbach 5-1. With goals from Ribery (17th), Lahm (22nd), Thiago (26th), Robben (42nd), Müller (60th). Luke de Jong has reduced the score. The Bavarian Machine is launched.
Dortmund was third after a 1-0 win over Hamburg. Aubameyang sickdoes not play.