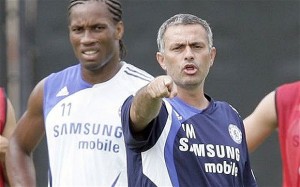 José Mourinho misses no opportunity to say all the good he thinks of Didier Drogba, scorer again Sunday with Galatasaray. The Ivorian has truly marked the Portuguese coach and the English club Chelsea. So, when comparisons showered with new nugget of the Blues, Romelu Lukaku, "The Special One" quiet enthusiasm.
"We must respect Didier, as Didier is unique in the history of Chelsea. And must comply with Lukaku and the best way to respect, this is not to compare him to a legend of Chelsea. But the kid is good. Everything depends on him, but he is sufficiently open and intelligent to learn the kind of movement we want. Each manager has his own ideas. Lukaku had an excellent manager last season with Steve Clark but Steve is Steve, I'm me, and West Brom is not Chelsea. "
Mourinho is trying hard to get Drogba back to London.