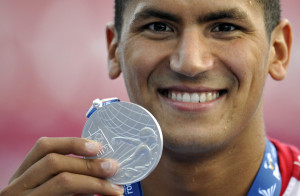 He is one of the stars of the 15th World Swimming in Barcelona, Spain. Oussama Mellouli continued his medal collection. Just two days after winning the gold 5km, the Tunisian was back to the open of water race in 10km.
But this time, the 2012 Olympic gold medalist in the 10km will not be satisfied with only that bronze medal. It is the Greek Spyridon Giannotis who kept his world title with a time of 1 h 49 min 11 sec, evening 2s ahead of the German Lurz, triple world champion.
Mellouli arrived seven seconds later.