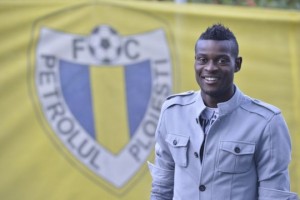 Jeremy Bokila is the central conflict between Belgian club Zulte-Waregem and the Romanians Petrolul Ploiesti. The Congolese striker was author of an excellent season by scoring 16 goals in the championship of Romania.
Lent by Zulte-Waregem last season to FC Petrolul Ploiesti, the player still has a contract until 2015 with the Belgian club. The Congolese impressed people during the past year and the leaders of the Romanian club want to keep him. Petrolul Ploiesti allowing the player on loan with option to purchase guarantees has removed the option posed by Zulte-Waregem by paying the sum of 300,000 Euros for the native of Kinshasa. For their part, the leaders of the Belgian club indicate that the player is still owned by Zulte-Waregem.
The Belgians ensure that no agreement has been reached Petrolul Ploiesti.
The player who still has two years of contract with Zulte would like to find a little serenity in his career. The striker would be followed with emphasis by AC Ajaccio. He aroused the interest of several European clubs including, Maccabi Haifa and FK Krasnodar.