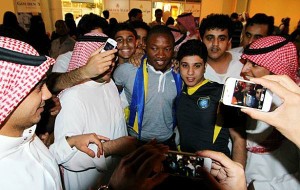 With the lack of interesting offers in France where he wanted to stay at any price, Paul Alo'o Efoulou just gave another meaning to his career. The Cameroonian striker landed in Saudi Arabia, where he signed a 3-year contract with the Al Taawoun club.
He was out of contract with Nancy, relegated to Ligue 2 last season. Alo'o Efoulou, international, has also passed through Angers and Le Havre.
Seeing the enthusiasm upon his arrival at the Riyadh airport, expectations will be huge on his shoulders.