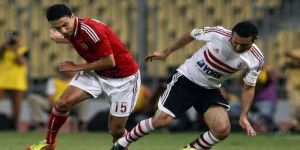 The first day of the group stage of the African Champions League continues on Wednesday with a shock between the Egyptian enemy brothers Zamalek and Al Ahly. The meeting, which has caused all the trouble in CAF has been postponed twice. So now the two continent giants are clashing in Group A.
As usual, the meetings between Zamalek and Al Ahly are explosive with very hot fans but for once and also at Port Said, the meeting will be played behind closed doors. Moreover, CAF has warned that if the extremists of both teams violate this provision, the two teams are likely to expulsion from the competition.
Abu Treika back!
On the ground, this poster does not thereby lose its flavor. These are the two designated champions of the season after the cancellation of the Egyptian league clash. Al Ahly found its trigger, Mohamed Abou Treika who made a rod last fall in the Gulf. The change of coach of the team should also make some adjustments in the game.
In front, the star striker of Zamalek, the Burkinabe Abdoulaye Cisse decided not to play, demanding back pay. In all cases, the match will be held.
In the other match played last weekend, Orlando Pirates of South Africa and AC Leopards of Congo have made 0-0.