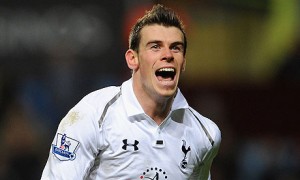 According to the British newspaper Metro, Real Madrid is determined to secure the services of the Welsh star Gareth Bale for a recorded transfer € 100 million.
The new Real Madrid coach Carlo Ancelotti and his assistant Zinedine Zidane, although satisfied with their recruitment, would like to acquire the wisp of spurs.
The deal of an amount of € 100 million would erase the historical record of Cristiano Ronaldo.
According to Metro, Real Madrid would propose € 85M in addition to the Portuguese left-back Fabio Coentrao whose value is estimated at € 15 million.
Coentrao, would also not be against the idea of joining his compatriot Andre Villas-Boas, Tottenham coach, who particularly appreciate the offensive qualities of the Portuguese side.