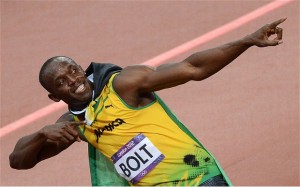 Usain Bolt said Thursday he was "not worried" for himself about doping, while great sprinters as the American Tyson Gay and his fellow the Jamaican Asafa Powell tested positive in recent weeks.
Usain, what the positive controls of Tyson Gay, Asafa Powell and Sherone Simpson inspire you?
It is painful and difficult. In life, things happen and people make mistakes.
According to the hecatomb of positive cases in Jamaica, should we also doubt about you and your performance?
I had a gift (at birth), I know I'm clean. I'm not worried. If you follow me since 2002, you are aware that I have done phenomenal things since I was 15. I was the youngest sprinter to win the junior title at age of 15 (200m) I have made the junior world record at 17 years, i ran 19"93 at 18 years. I beat every record that was there to be beaten at every competition which I attended.
Asafa Powell and Tyson Gay say they ate contaminated food supplements. What about you?
I take vitamins, like all athletes.
Are you worried that a mishap of that kind happens to you one day?
This is the kind of thing that can happen, but I'm not worried. All I have to do is concentrate on my work, and advance my sport. I have a team that takes care of it all for me and I trust them.
Have you discussed with Asafa Powell?
No, I just had a conversation with him by Blackberry messaging. I did not want to weigh him down with questions. I was sorry to hear this news, and he told me that it was hard to put up with. I just told him to be strong and focused, and everything will be in order.