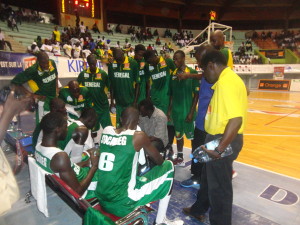 After the victory of the Lions of Senegal A Blueberries on France in the first round Wednesday (81 – 57), the French reply was not long in coming this Friday night, with a short but spectacular victory (64-63 ) at two seconds to the end.
Basketball is often the show! Those few seconds where everything can change. The Lions of Senegal A against France A 'in the second exhibition game opposing them in 48 hours, have learned to their cost. A tight game. Evidenced by the scores in the first quarter time (15 to 11 for Senegal) and 27 against 27 at the halftime.
Back from the break, the mano a mano goes between the two teams and Senegal won the third quarter time with a score of 46-43. The Blueberries with a staff of eight players valiantly against 12 Lions supported by their public. Their game down to 5 minutes after the game, they rely on an excellent Abdoulaye Mbaye combining entertainment and power in the game.
His score to 18 points is quite revealing. In the first match he scored 19 points. To his credit the turn of the game. At 6 seconds to the end, Senegal was leading 63-62, the Senegalese coach of France Jean Aimé Toupane ask for an idle time and load another Senegalese, Mbaye of the Blueberries to execute the sentence. A revival of the midfielder Boris Diallo originally from Guinea, there are only two seconds and Mohamed Diakite (originally from Gambia) found Mbaye that attempts and succeeds two points. The stadium Marius Ndiaye is boiling.
64-63 for France. This is the end of this game. The smart game of the Blueberries combined with a winning coaching defeated the Senegalese in preparation for the African men's basketball; will meditate for sure, this surprising setback.