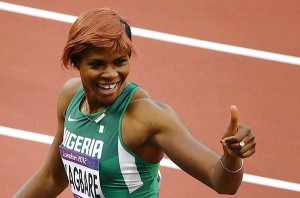 Blessing Okagbare was the strongest in London this Saturday at the Diamond league. The Nigerian sprinter has emerged in the 100m ahead of the U.S. Barbara Pierre (10" 85) and Kelly-Ann Baptiste (10" 93). Okagbare dominated the race in 10'79 ", setting a new record for Africa.
Yet, a few minutes earlier in the semi-finals, Shelly Ann Fraser exploded the clock to make the world's best performance of the year. She won in 10 "77 (wind: +0.7 m / s). the Jamaican eventually finished fourth in the final.
Okagbare had dominated a competition during the Diamond League in 2013 last weekend on the length in Monaco.