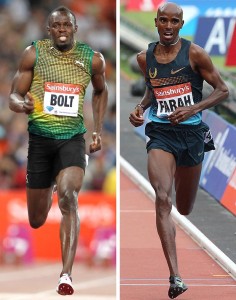 This is a duel that will surely be interesting. On the sidelines of the London Diamond League, Mo Farah (specialist in distance races), winner of 3000 m with his staff improved lap 7'36" 85 – challenged the Jamaican rocket, Usain Bolt (specialist of sprint) – winner of the 100 m and 4 x 100 m relay-.
The British want to face Bolt on the track. And for this dual, the Olympic champion in the 5,000 and 10,000 m offers a median distance between their specialties. "It would be nice to do it on a distance and people would vote for the one that would be more appropriate," he said into the microphone of SkySports. And Mo goes directly to the fastest man in the world in these terms: "Are you ready for this? Come on, you have to do it. "
The Jamaican Olympic champion in the 100m, 200m and 4 x 100m accepts the challenge, but on 600 m "That sounds fun. It will be hard but it is a charity operation so it's fun. 600 m, it is sure that I can try because I do in practice, but not 1,500. "
There is no doubt that the speaker will be attacked even if there is no real issue.