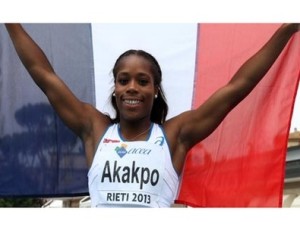 The team of France of Athletics completed its list for the world championships in Moscow (August 10 to 18). Stella Akakpo, the European champion in the 100m in the Juniors will defend the chance of France in the distance.
The Franco-Togolese European Junior medalist in the relay is also part of the 4x100m relay team to the championship of the Russian world championships.
The Long jumper, Salim Sdiri of Tunisian origin was also selected for the world championships.
The French delegation will be composed of 52 athletes (21 women and 31 men), 12 more than the first list that was drawn on July 15.
List of Additions
Women
100m: Stella Akakpo, Myriam Soumare.
200 m: Lenora Guion Firmin.
400 m: Floria Guei.
4 × 100 m: Stella Akakpo, Myriam Soumare, Johanna Danish, Celine Distel Bonnet, Emilie Gaydu, Ayodela Ikuesan.
Men
400m hurdles: Yoann Decimus Michael Francis.
Length: Salim Sdiri.
Triple Jump: Gaetan Saku Bafuanga.
Decathlon: Gael Quérin.
4 × 100 m: David Alerte, Mickael Zeze.