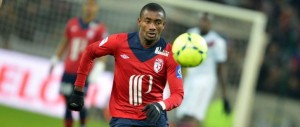 Placed on the list of LOSC-transferable players because of salary-Salomon Kalou (28 years old next Monday) should return to the Premier League.
The Lille striker Salomon Kalou, who makes no secret of his desire to be new actor in the English league, is only the last puzzle to position to make the transfer take place. Indeed, West Ham would have reached an agreement with Lille for the transfer. However, nothing was known about the amount of the transaction. Lille would demand 3 to 4 million Euros to separate himself from his attacker under contract until 2016.
The staff of the Hammers began discussions with the agent of the former Chelsea player (2006-2012). The speech of Sam Allardyce, manager of the club, who should call the Ivorian international will be an additional advantage to sign with the player who is also in the viewfinder of West Brom.