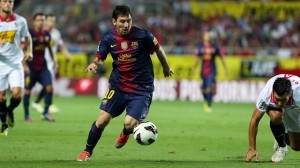 Lionel Messi did not steal his Goal 50 title. With just two weeks of workouts in the legs, the Argentinean star is already hot for the new season. This is evidenced by his habits already spread during the friendly matches.
Tuesday, FC Barcelona faced the Polish training of Gdansk.
The opportunity for the Argentine to make once again his technique shine.
Pursued by a defender to the point of a corner, Messi picks the ball and jump over the opponent when the latter plungs into his feet.
The rest is simply a delight to the eyes. Messi has scored last week in the 7-0 victory over Valerenga.
Enjoy
[youtube]http://youtu.be/lfkPAlioVcA[/youtube]