Football is the most popular sport on the African continent. Its practice requires no real infrastructure unlike that of basketball. The NBA has opened an office in Johannesburg in 2010 and deals with the development of the discipline and the activities of the NBA in Africa. Their presence and that of the African stars of the North American league whose we encountered the best gives a new dimension to the African basketball.
The Player
The salaries of top stars are making the young dream and they are more and more numerous to be pushed to become high level athletes. At the 4th place in the ranking of the highest-paid African athletes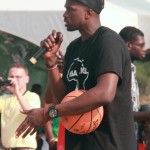 (behind Samuel Eto'o, Yaya Toure Emmanuel Adebayor and before Didier Drogba) lays the best African basketball player named Luol Deng. Summarize the 28 years of Sudanese origin of the Chicago Bulls – a team dedicated to Michael Jordan, to figures would be simplistic.
The Encounter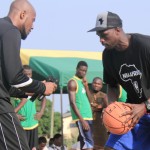 Africa Top Sports teams followed the double NBA all star for two days in Accra, Ghana during his visit to a camp for basketball development. Luol would certainly deserve to enjoy the same popularity as his fellow footballers as he carries a strong message for an entire continent. He who was a political refugee from a country at war is now a sports icon for all youth. Luol Deng has accepted the mission entrusted to him alongside the NBA to be the spokesman of a continent on which a huff a wind of optimism.
Discover all the week along on Africa Top Sports the photos and videos from our meeting with Luol and win t shirts and jerseys autographed by the star of the Bulls by joining our Facebook page.
He kept up to addressing a message to his fans that are on our site:
[youtube]http://youtu.be/w-BiW9Eb5HQ[/youtube]