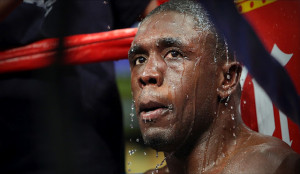 The Haitian-American Andre Berto was beaten by the Mexican Jesus Soto Karass last Saturday for a vacant NABF welterweight title.
The Haitian boxer was knocked out in the 12th round. This defeat probably marks the end of career for Berto. Aged 29, the Haitian should retire after this defeat to a taste little special.
In his remarks relayed by tout-sur-la-boxe.net, Berto believes that the referee stopped the fight too soon and did not give him a chance to finish the fight, to allow him to have the decision from the three ringside judges.
"From the fourth round, I was hampered by an injury to my right arm. I had to fight with my left arm. I was not able to fight at 100%, which made the fight more difficult. But I'm a boxer and it is the vagaries of my job. I think I had the right to be counted up to eight and not be arrested immediately. Thank you to everyone who supported me for this fight. Injury or not, I tried to do my best in this duel, "said Berto.