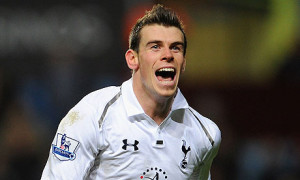 Gareth Bale wants to join Real Madrid but Tottenham will not let him go without a lot of money.
Yesterday Gareth Bale has not trained with his brethren; he was just content with care. The Welsh repeated to André Villas-Boas his desire to join Real Madrid
He also reflected that Luka Modric, transferred last year from Tottenham to Real could be used as a bargaining chip to lower the transfer price.
According to the Spanish press, Tottenham president Daniel Levy would set the amount of the transfer of his star player to 125 million pounds (142.8 million Euros).
Zinedine Zidane still hopes: "If Bale wants to join Real Madrid, the club must give him permission to talk with us. The chance to play for Real may occur only once; it is understandable that Gareth does not want to miss it. "
In short, Real keeps hoping!!!