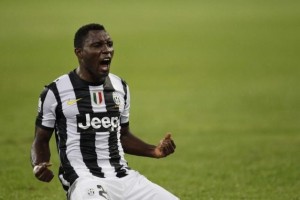 That night was held the first match of the International Champions Cup, a competition for pre-season training which includes eight trainings of the world in the United States.
Everton faced Juventus and after regulation time, the score was a 1-1 draw.
Then came the session of penalty shootouts and everything was fine until the turn of Kwadwo Asamoah.
At the time he was gaining his momentum, the Ghanaian midfielder is surprised to see afan coming. The latter shoots the ball but Tim Howard is watchful and catches the ball.
The main under the laughter of Juventus bench. For the record, it is Everton that won the match 7-6.
[youtube]http://youtu.be/fXiBsN1_GUM[/youtube]