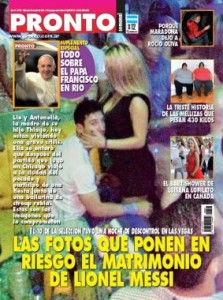 As the Africa Top Sports.com reported, Lionel Messi, the star of Barcelona was caught in the arms of a woman who was not his …
The Argentinean magazine Pronto unveiled Tuesday a picture of Messi's head between the breasts of an unknown woman at a party. One thing is certain; it was not the lovely Antonella Roccuzzo, wife of the Barcelona player and the mother of his little Thiago.
Today the polemic is strong! The photos would have been adjusted by the magazine Pronto and Messi would have been brought closer to the beautiful blond!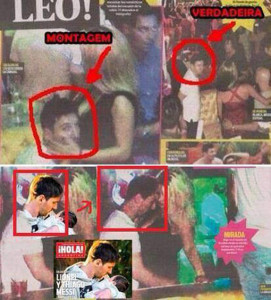 An internet user even says that this is a vulgar montage: "The diffused photos of Messi could actually be pictures that were taken during … the birth of his son Thiago. On one of them, the baby Messi was simply replaced by the bimbo in physique, as can be seen from a comparison made by internet users. The other picture had originally also been captured in Las Vegas but while Messi was not absolutely doing nothing incriminatory. "
The editor in chief of Pronto, Fernando Cerolini, denies this version: "The pictures were taken with a Smartphone, this is why they are blurred. And with such a poor quality, it is not possible to make a montage. We are only relating what happens. We are not making any judgment. "
The websites are investigating …
To be continued …