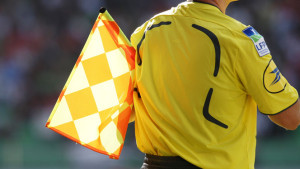 The period of Ramadan knows mixed fortunes in sports. Africa Top Sports reported to you a few days ago, the influence of the Ramadan Lent on the Togolese international Alaixys Romao.
In this video, a Senegalese referee delays the resumption of a (Casa Sport-Yeggo, the 25th day of Ligue 1 Senegal) match for 15 minutes to break the Lent. Despite the cries of the public which asks him to resume the game, the referee remains unfazed. He enjoyed some dates and quenches his thurst before whistling the resumption of the game.
"Legally, it is not possible to stop a match to break the fast. But you can enjoy a break in the game to meet a health need. The human body needs water, "says Ousseynou Gueye, a referee who witnessed the scene from the stands.
[youtube]http://www.youtube.com/watch?feature=player_embedded&v=MsTx_H3gZ50#at=89[/youtube]