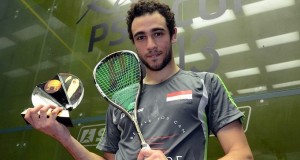 The PSA (Professional Squash Association) announced on Thursday its World Tour ranking of August. Not surprisingly, it is the Egyptian Ramy Ashour who monopolizes the top of the list. It is now the eighth consecutive month that Ashour dominates the male squash. Unbeaten since May 2012 on the PSA World Tour, Ashour is the best player in the world in his discipline.
He is ahead of his main rival, the French Gregory Gaultier with 652 points. The podium was completed by the Englishman James Willstrop. The Top 20 of the rankings of August remains unchanged from the last set. Four other Egyptian players such as Karim Darwish (5) Mohamed Elshorbagy (6) Amr Shabana (8) and Tarek Momen (10) are also included.
Also note the presence of Alister Walker from Botswana (15th) and the South African Stephan Copinger (16th).
Discover Squash!
Sport still unknown to the general public, is a racket sport that is played on a playground completely surrounded by walls (possibly wall (s) fully glazed (s) to allow the presence of spectators at international tournaments). It involves hitting a small black rubber ball, so that your opponent cannot resume it.
The goal is to remove as much as possible the opponent the "T" center (where the player is in white sneaker in the picture). In one hour of effort, squash is one of the most extravagant calorie sports. Another peculiarity of this sport is that both players share the same turn and defend playfield. This specificity sometimes puts both players into interference, and then we say there is a situation of let. (Source: Wikipedia)
Squash struggle for global recognition. It has also applied for a place at the Olympic Games. The decision of the IOC (International Olympic Committee) will be known in September. Baseball and Wrestling are fighting over the same place.
Check out the discipline in this video!